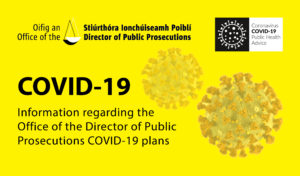 The Office of the Director of Public Prosecutions (DPP), like all public service organisations, is responding to the evolving challenges presented by the COVID-19 pandemic. The prosecution service is an essential service.
We have put in place a range of measures to ensure the continued delivery of a prosecution service during this time, while also observing the Government's public health guidelines.
The Office can still be contacted as usual. Victims of crime can still correspond with the Office of the DPP regarding their cases (e.g. seeking requests for reasons and reviews of decisions not to prosecute).
Defence legal representatives are asked to correspond with the Office by email during this period.
Information regarding court services is available directly on the Courts website at www.courts.ie.